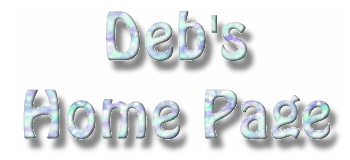 Welcome!
The home page begins with spiritual thoughts, gardening and bird-watching tips, and links to pages on rubber stamping.

My other pages online:
vintage TV, favorite movies, mystery writers and historical novel writing,
links to sites with "of the day" in the title, selected bookmarks,
Deb's Writer Cam, and Deb's Monthly Review, which features U.S. festivals, quotes, tips, opinions, news and more.

I'm slowly beginning to put some of my short stories online (acccompanied with photos, and eventually, some original MIDI music compositions).

If you have your own web page(s) I'd love to know where they are so I can get to know you better.

Come by often!


One of the things I enjoy in life is the challenge of choosing Christianity in a diverse world. I believe every time we reach out to someone else, we are actually making a choice to be on God's side. There are great people in many religions and denominations throughout the world, but I find that the Seventh-day Adventist Church has met many of my needs. I am what some would call a liberal Adventist, but I still find that this denomination defines the best potential of Christian life by speaking to the whole person. In some countries, people refer to Seventh-day Adventists as "Seven-day Adventists" or "Seven-day Christians". That's a high-calling, and I hope I can meet that challenge! If you are curious enough to find out a little more about the Adventist Church from an official point-of-view, stop by the denomination's home page.

We are a diverse group, whose roots formed in the Victorian era when people from several denominations became interested in Jesus' promise to come back and take His believers home with Him. Some people became so excited and obsessed with the whole idea that they sold or gave away everything they had and set dates for Him to come back. They were terribly disappointed when that didn't happen. But some of them continued to hope, and continued to study the meaning of Jesus' promise. Many of those people formed the Seventh-day Adventist Church.

We are still learning to be a dynamic organization that can make a difference in today's world. That means change. And there are always some folks who resist change, especially outward changes that may reflect inner understanding and growth (and which some fear will project ideas of worldliness). And, frankly, some folks like a checklist, and if we don't measure up to their checklist, they feel we are on a slippery slope. The real trick becomes, as they say, not to throw the baby out with the bathwater.



I'm enjoying that challenge, along with all the others!



Some people think you can grow anything in California. We actually have not one climate, but many. While apricots grow nicely in San Jose, drive 40 minutes south to our area and the cool summers and fog produce few great apricots, but give us wonderful strawberries. Drive 30 minutes inland to Gilroy, and they grow so much garlic they have a festival to celebrate its abundance.
If you want to know more, visit Virtual Garden, WebGarden or
GardenNet.
California gardeners can find additional help at Garden California but remember to consider your local microclimate.
If you live in the general area of the San Francisco Bay you may find
The Bay Area Gardener to be helpful.

If your idea of gardening is wanting to know what to do to keep your lawn in fairly respectable condition, go Ask Earl.

Classes, seminars and shows will give you a chance to meet other gardeners, share ideas, and find information.
Calendar of Garden Events

Learn how to compost!
The Compost Resource Page

Think gardening is only for country folk?
City Farmer




If you enjoy watching birds around your home, there are things you can do to encourage them to come and visit. The obvious step is to put out food for them. You can try hanging feeders, feeders on posts, even low feeders that sit on the ground. If you enjoy the finches and small seed-eaters, be sure to provide them with their own mix that includes things like thistle, pieces of sunflower seeds, and millet.
I live in a rather mild climate, but if you have severe winters, you can include winter supplements like suet and peanut butter (you can mix this with corn meal) to keep cold-weather visitors happy.
Many birds, like orioles, enjoy fresh fruit. You can cut an orange in half and nail it to a piece of wood.
The plants you choose to grow in your yard or garden can make a big difference in the number of birds who stop by. Some favorites include Pyracantha, Bottlebrush, Juniper, Liquidambar (also called Sweet Gum), Honeysuckle, Dogwood, Bachelor's Buttons, Poppies, Zinnias, and Sunflowers. An evergreen tree provides year-round protection, and many birds enjoy conifer cones (and some birds will feed on the insects that inhabit the cones).
Don't forget things like fuschias and trumpet vine for the hummingbirds.
Sometimes water will bring birds more quickly than food. If you can provide a shallow birdbath or two you will please many of them. The sound of water helps, so if you can provide a dripping source, so much the better. Change the water frequently, and scrub the bath occasionally with a very weak bleach solution. If you live where the winters are cold, you might want to invest in one of those tiny heaters they make especially to prevent the water from freezing.





I have a cabinet in our home where I keep strange things like empty

boxes and little homemade booklets with various covers made of magazine clippings, calendar photos, restaurant menus and other found art. I discovered this little obsession many years ago when a pen pal sent me one in the mail, and now I swap them with several other people. They are called slams and are filled with questions to answer.
This hobby is not for the faint of heart. Many of us fill boxes with 50-100 (even more) slams at a time, and it takes hours and hours to do them. Several of our clan have been at this for 15 or more years! Rosey, one of our swappers, has some web space dedicated to the art and fellowship of slams. Take some time to visit her Slam Page. Another site dedicated to slams, friendship books, and other pen pal-related trades, is Swappers Online.


As long as we're on the subject of mail, is all your correspondence going out in plain little white envelopes?
Well, we can take care of that for you! Visit these links and then stamp your own conclusions!



Rubber Stamp Links

Viva LasVegaStamps
And now Stampo has added the Stamp Me Tender line of rubber stamps!

The Rubber Poet and Yes! Pigs Can Fly

Rubberstampmadness Home Page
A journal dedicated to the business and craft of stamping and related arts.

Ker-Chunk! The Rubber Stamp E-zine
Two Too Cool Rubber Stamp Bulletin Board
Dragonhome's Rubber Stamp Links
Rubber Trouble - Rubber Stamping Links, Reviews, and Info

Note: Stampa Barbara's wonderful rubber stamps are now available from Clearsnap, Inc.
The Stampa Barbara site includes information on how to get the catalog of images.

For stamping ideas try the magazine Stamping Arts & Crafts



Acknowledgements, Credits, Heaps Of Thanks


Hugs and smiles to my great husband, Ron, for helping me over rough spots in my code,
and for not saying one word (except to ask which fast food to bring on his way home)
when I don't get other things done because I am working to meet self-imposed deadlines.

Time after time I refer to Doug Jacobson's
great RGB Color Chart.
You can see his work here.

Some of the graphics come from


Some graphics are from the
collection of Randy D. Ralph at the

I also borrowed graphics from the collection of
Ann E. Cleary

Still another graphic or two came from
the collection of Magnus Gurne


I have tried to give credit where credit is due.
If you see any copyrighted images for which you think
I may not have given credit, please do let me know their
original source so I can contact the owner and take care of that.
This Page Was Last Updated On March 6, 2003
To send me email:

deb@lightpatch.com